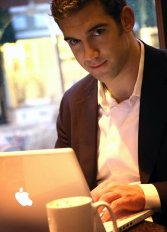 I've been growing my business on LinkedIn for over a year now and in that year I landed dozens of job offers, published a book and toured nationally, added thousands of dollars extra income each month, and coached hundreds of professionals in seminars without ever spending a penny on advertising.
I have now created the Ultimate LinkedIn Toolkit on how to generate extra income, thousands of leads, multiple job opportunities, and more just like I did
... All From a Free LinkedIn Profile!!!

LinkedIn is the Largest Business Networking Site and Millions are Made Every Day!

Learn how to Grow Your Business, Dominate Your Market, and Increase Your Profits Using a Free LinkedIn Profile!
That's Right – You don't need to spend extra money on marketing when you can use LinkedIn and other social networking sites to Achieve Your Goals!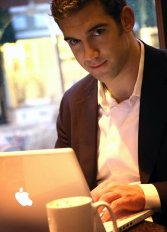 From the desk of Lewis Howes:

Believe me, I understand you would rather focus on what you do best instead of trying to attract new clients and market your product. I also understand you have a million things on your plate and little time to accomplish them. I have had my fair share of challenges especially when I had to retire from playing professional football due to career ending injury. When I wasn't making any income, couldn't get a job because I had yet to finish my degree, and was unable to work from having a full arm cast on for six months, I went through many feelings of doubt, a sense of loss, and fear.
I have struggled before and I understand the challenges. You're so busy running your business that you don't have the time to figure out how to use social media, and more importantly the most powerful business networking site online... LinkedIn!

Over the past 5 years I have worked extensively on social media, and over the last year I have consulted with entrepreneurs, small business owners, mid and large sized companies directly to show them how to leverage LinkedIn to achieve their professional goals and help their business achieve maximum profitability.
As an ex professional football athlete, World Record Holder and two sport All-American, I know a thing or two about beating out the competition to achieve your goals.

I use my same mentality in sports as I do with my experience on LinkedIn and social media. I demand success from myself and my clients, and I have created a system that sets you up for the highest level of success!

I have been responsible for saving thousands of dollars for companies on recruitment, generating countless leads, saving time and money on marketing dollars, all while helping clients build a powerful online brand to millions of potential customers.
Thanks for the opportunity to share this program with you to help you focus on what you do best!
In Abundance,


Lewis Howes


Creator of The Ultimate LinkedIn Toolkit and Author of LinkedWorking, and The Underground Secrets to LinkedIn Success
The First Time I Created This Training People Were Blown Away From The Value, Content, and Results They Received. Read What People are Saying Below:
"I recently interviewed Lewis Howes for a Social Media Bootcamp. As the expert for LinkedIn, I counted on Lewis to bring forth great content that my over 1400 registered attendees could use. The result was a fantastic one-hour plus webinar that has received rave reviews from the attendees! I learned a lot and give Lewis my highest recommendation."

Joel Comm, CEO of InfoMedia, Inc, Social Media Expert, Internet Marketer and NY Times Best Selling Author www.joelcomm.com
"Outstanding job, Lewis!! You're clearly a total pro on LinkedIn. I learned a ton and made tweaks on the fly. I'm looking forward to your training too ".

Mari Smith, Relationship Marketing Specialist | Social Media Business Coach focusing on Facebook & Twitter. www.marismith.com
"Rarely do I learn something, Implement it, and get results in a matter of 20 minutes. Well, with Lewis I learned more about LinkedIn within about an hour of his class than I ever did for the whole time I was using LinkedIn. In fact I was about to give up on LinkedIn, until I heard his seminar. While listening I started applying what he taught and immediately got results. It's Funny, but almost too fast. Why? Well I'm not even set up officially like I want to be on my blog, yet I'm getting more connections and I'm currently got some awesome search results. The Impatient Entrepreneur version of this recommendation; "Buy his book and take his classes, period!" Thanks Lewis ".
Jim Chianese, Small Business Marketing Resultant and Impatient Entrepreneur Mentor www.bestclientmagnet.com
"Fantastic! The webinar was incredibly valuable. I can't wait to listen to it again. Thank you for sharing your tips and the opportunity to learn more. Seriously. I'm excited!"
.

Linda Rae Sanchez, Senior Account Executive at MQ&C Advertising and Marketing www.mq-c.com
"

I just finished up Lewis' webinar series on using LinkedIn and it was one of the most worthwhile events I've ever attended online. I took another class on LinkedIn last Summer, and it still left me with hardly any connections or real purpose for spending much time on LinkedIn. After taking Lewis' course, I started my own LinkedIn Group and quadrupled my direct connections and increased my network by 7X in just 24 hours, and I'm just getting started! Lewis' hands-on training was down-to-earth, and offered some very innovative ideas for using LinkedIn to add valuable connections and, more importantly, increased sales and revenue to my company. Thanks to Lewis, I've seen the light about LinkedIn (I even did one of my podcast episodes about it), and will now be giving it a lot more love on a regular basis. I'm sure I'll be seeing the positive effects of taking this course forever!

"




Melanie Jordan, Entrepreneur Information Products www.whatyouknowisworthmore.com
"

Lewis Howes has a great command of LinkedIn and LinkedIn marketing strategies. He has developed an outstanding training to make everything user friendly from the 'get-go'! His detailed knowledge and expertise with the LinkedIn system are a 'must-have' for anyone wanting to quickly and professionally establish themselves within the LinkedIn network. I recommend to all executives, leaders, entrepreneurs and professionals who desire to find success via LinkedIn to contact Lewis and sign up for a seminar!

"




Karen J. Keller, Ph.D., MCC. Executive Coach at www.theexecutivecoach.com
"I came to know Lewis through Joel Comm's webinar on LinkedIn. I learned so much from Lewis about this Business Networking site in just the little time that he presented. His presentation was clear, concise, and poignant. I would highly recommend attending his seminar or workshop, or hiring him as a speaker/presenter for your company."

Jason Yun, Head Trainer , Yun Fitness Bootcamps
"I participated in Lewis' on-line webiner hosted this week by Joel Comm. Lewis' information about how to get "LinkedIn" was succinct, easy to follow, and offered amazingly fast results. It was a brief session. I look forward to participating in more of Lewis' programs to glean more insights! Great value! "
.

Janice Jensen, Emmy-nominated Supervising TV Producer/Writer/Director www.mtevans.tv
"Lewis is a great communicator. With his help I have learned how to make my linkedin profile more appealing and effective. I recommend anybody that is looking for ways to improve their profile and profit from Linkedin to contact him and use his info. Thanks again for your help "
.

Les Martin, Social Media Consultant
"The tips and tricks for getting the most out of LinkedIn were simple to implement and netted me great results. I spent about an hour right after the seminar and another hour the following morning reworking my profile, joining groups, etc. I went to a meeting at nine. When I got back at eleven, I had almost two dozen messages of people connecting with me, offering to walk my resume around to their friends and co-workers and setup meetings to talk about work. It took the rest of the day just to return everyone's messages! It will take weeks to exhaust the leads that I acquired in just a couple of hours. I am confident that I will owe my next job to Lewis Howes!"
.

Brian Ward, Software Architect at Farmers Insurance, Cleveland Ohio
"Lewis is a LinkedIn expert who definitely over-delivers. His training provided value that is far beyond our expectations"
.

Trevor Yannayon, Business Analyst - Asset Management Specialist, Bayer.
"I couldn't speak more highly of Lewis; the depth of his knowledge and understanding with regards to LinkedIn is truly incredible. In a very short time frame, he managed to give me a sense of direction and focus; I can only imagine the results a direct, one-on-one consultation could bring! I appreciate the time he has taken already, and I look forward to reading his book: "LinkedWorking: Generating Success on the World's Largest Professional Networking Website"!!!"
.

Christopher Vanning, Account Executive , Lynden International, Miami, FL
"I highly commend Lewis on making LinkedIn one of the largest and best professional networking sites available today. I was fortunate enough to attend his "Getting LinkedIn" webinar after missing the LinkedWorking Cleveland event. Lewis is very much a leader and down to earth approachable person who helps out others. He is awesome - from playing multiple sports to being an expert on LinkedIn, a marketing and PR guru for individuals and businesses, a salsa dancer, guitar player, and author - Lewis has it all. I have ordered his book "LinkedWorking" and can't wait to get it."

Michael Smeck, IT Operations Supervisor, Lord & Taylor
"I took part in Lewis's LinkedIn Webinar. I gained a lot of insight in what to do and what never to do with my LinkedIn profile. After making some of the changes that he suggested in his training, my profile got a lot more attention and was a lot more user (reader) friendly. I highly recommend Lewis to anyone looking to master the art of social networking via LinkedIn".

Laura Carmichael, Charlotte NC
"If you want to grow your business or need to connect to who's who in the sports industry Lewis is your guy. He is also an expert of LinkedIn. In just a few minutes of talking with him I was able to take my extended connections on LinkedIn from around 900,000 to over 5,877,500 in a matter of a few hours. He has incredible knowledge of LinkedIn and how to use it in the business world. His time is well worth it versus trying to figure it out on your own."

Bruce Clithero, Owner , Concierge Services of St. Louis County
"

Lewis presents one of the most dynamic and one of the most educational webinars I have attended and I have attended - let's just say, too many to count. I truly appreciate all of the info you have shared. It's nice to run into Pay It Forward kind of people.....Thanks again!

"


Dianna Harrold-Smith Local Ad Link
I get it! I understand the challenges and that's why more than 1000 Entrepreneurs and Businesses have used my system to Help With Their Business!
With The Ultimate LinkedIn Toolkit you get:

1. How To Create A Rock Star Profile!
(Laying The Foundation)
Learn To Write the Perfect Headline to Increase Page Views and Attract More Clients to Contact YOU!

Learn to use the Rule Of The Toastmaster and captivate Your Target Audience with this Proven Sales Technique

Learn to Place Certain Key Words To Increase Your Rankings in the LinkedIn Search Engine

Learn How To Customize Your Website Names to Ensure Prospects Click on Your Site

Learn Why Your Summary is the Most Important Thing in Your Profile, and How To Write it Like a Professional Copy Writer

Learn the Biggest Mistakes People Make When Adding Key Words in Specialties and Interests and How to Overcome Them

Learn How One Person Made one Change on Their Profile to Land a Published Book Deal!!!

Learn How to ensure you always have job opportunities during any economy!!!
"I'm so impressed with Lewis' vast knowledge about the art of social networking and specifically the secrets to mastering LinkedIn. He is wonderful to listen to and talks in very understandable terms. I very much appreciate his enthusiasm and openness to share regarding this new and exciting medium we're all learning more and more about. Keep up the great work, Lewis!"

Stacy Jarvis, Director-in-Qualification , BeautiControl. St. Louis, MO
2. Generate Warm Leads, Attract Clients, and Build A Massive Niche Following!
Plus..


Learn How I Built Groups With Over 13,000 Target Members to My Business

Learn How to to create multiple groups with thousands of buyers and warm leads each.

Learn how I save over $1,200 a on Marketing per Year by Applying Features Within the Groups

Learn How to Contact Anyone and Guarantee They Respond

Learn How to Close on Your Warm Leads Once They Respond

Learn How To Become a Sought After Industry Leader By Using Groups and Q&A the RIGHT WAY!

Learn What one action will Increase your 2nd and 3rd degree Connections by a minimum of 5 million in a matter of days!
"I found Lewis by accident, but will stick to him like glue from here on. His knowledge of LinkedIn is extraordinary and by following his guidance anyone can dominate their industry. Do what he says !"

David Emslie, Director, The Data People
Leads, United Kingdom www.thedatapeople.biz
3. Applying The Advanced Applications!
Plus..

Learn how to Generate Thousands of Organic hits To your Website with Two Simple Actions

Learn how to Create Comments in Your Status to Promote Your Services

Learn how to Import Your Blog and Generate Thousands of Organic Traffic Monthly

Learn How to Add Videos to your Profile to Enhance Your Brand to Your Audience

Learn how to Create a Compelling Company Profile to Enhance Your Profitability and Company Brand online

Learn how one guy Answers Questions and makes $3,000 a month from doing so!

Learn how to Ask and Answer Questions to become the Thought Leader in Your Industry

Learn how to Search Through the Company Profiles to Connect With any Potential Client
"

WOW! Lewis Howes is the GURU of all Guru's...his information on how to use Linkedin to the best of your ability was tremmendous. I've learned so much and I highly recommend everyone to find out more about this guy!

"

Billy Carney, Corporate Fitness Weight Loss Expert at www.bcfitness.net West Palm Beach, FL
And since I feel one of the best ways to dominate your market it to host your own industry conference or event, I am going to walk you through exactly how I get over 500 people in a room, with over 5 paid sponsors and generate more than $2,500 at an event

*(Bonus) Draw a Massive Audience to Your Event!
Bonus Material..

I tell you how to get Premier Venues to Give you Their Space for FREE!

I walk you though how to get over 500 people to show up by Promoting my events only though Linkedin

I show you how to save hundreds every year on Marketing by applying one simple task in the Groups.

I show you have to attract paying sponsors and to learn how much to charge for each sponsor

I show you how capitalize on consulting deals after your event has ended

I show you hot to take a cut from the food/ bar sales at each event (that's right, you deserve a commission!!!)

I show you how to get Free food, and door prizes for the events... and much more!
---

My 100% Guarantee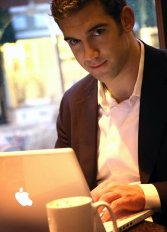 I am so confident of your success that I'm offering a 100% guarantee on this training product.
If for ANY reason you are not completely satisfied with the Ultimate Linkedin Toolkit, then send me an email letting me know why you were unsatisfied and I will click the REFUND button and give you every penny you spent on the product back.
YES Lewis I want in! I want immediate access to your Ultimate Linkedin Toolkit and your free money making events program!
Please Give me INSTANT access to this resource right now. I understand I'll get IMMEDIATE access to view the following webinars and I'll have them in my hand in less than five minutes.

And the price?
Not $497, Not $297...

Only $247

I know it's a crazy price but we are in
the middle of a recession!
P.S. I admit that this may not be for you. Not everyone wants to take action to improve their business and I understand that. Sometimes people are happy with where they are. If that's you, then there's really nothing we can do together and I wish you the best of luck with your business. But if you want to improve your business, and turn on the faucet of leads then make sure you click the link above and buy now.

Copyright Ultimate Linkedin Toolkit 2009 582 E. Weber Rd Columbus, OH lewis@lewishowes.com